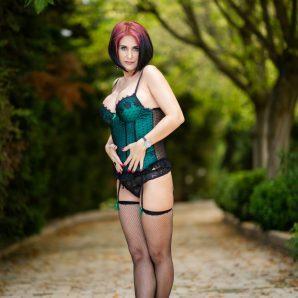 Elena Xatzi
Insatiable Greek MILF
Do you recall your horny teen fantasies about the hot MILF neighbor or that sexy teacher? That is Elena Hatzi also known as Elena Xatzi, the ideal Greek MILF! A sexy mature adult model from Greece, with a naughty smile, big tits, nice ass and a lovely pussy. Her porn career began in 2016. However, her performances really started to gain fan attention since 2019.
Elena Xatzi has a hot body at 5 feet 5 inches tall (165cm) and her measurements are 36C- 25-37. Her nice round tits and rockin' hips are just made for grasping while fucking her from behind. She is such a voluptuous MILF, that you might end up dazed and drained trying to ride every inch of her. This mature slut carries such an erotic force on-screen, with a slutty look in her eyes that's always thinking of fucking.
Elena Xatzi has a pleasant maternal mentality about her. She's the type of woman that will make you feel totally relaxed by holding you, listening to your concerns, caressing your hair, while afterwards giving you the most incredible blowjob you could dream of! A kinky and versatile porn actress. Ms. Xatzi can play roles like the mindful instructor, the supporting stepmother, the mending medical nurse, and so on. Always prepared and on the lookout to assist young dudes release the pressure building up in their bulging cock. This is what a top entertainer can do, and we're glad that Elena Xatzi shares her expertise only on Sugarbabes.tv!
(Visited 689527 times, 71 visits today)
No videos found